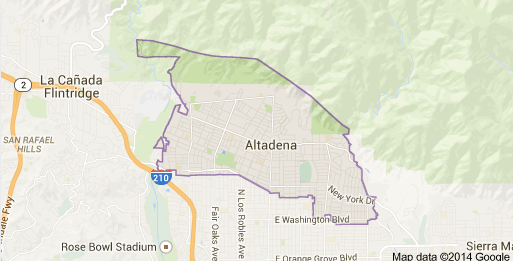 Read About Our Altadena Services
[button link="http://wigglewag.net/altadena/dog-walking/" color="orange"]Dog Walking [/button][button link="http://wigglewag.net/altadena/pet-sitting/" color="orange"]Pet Sitting [/button][button link="http://wigglewag.net/altadena/doggie-daycare/" color="orange"]Doggie Daycare [/button][button link="http://wigglewag.net/altadena/dog-boarding/" color="orange"]Boarding [/button]
Lovely Altadena, CA lies at the base of the San Gabriel Mountains, just north of Pasadena and east of La Canada Flintridge. Family owned businesses and an abundance of historic homes dating back to the early 1900s make Altadena is a great place to live, visit and rediscover a bygone era.
Several well-known Altadena estates are listed in the National Register of Historic Places including the Woodbury Story House, the Zane Grey Estate and the Keyes Bungalow. Also on the National Register is beautiful Farnsworth Park, a great place to walk your dog or take advantage of its athletic fields, playground and horseshoe pits. On a clear day, Farnsworth Park visitors can see downtown Los Angeles and even the Pacific Ocean from atop the historic community building.
The yearly lighting of Christmas Tree Lane has been an Altadena holiday tradition since the 1920s. Every December, this section of Santa Rosa Avenue, nicknamed Christmas Tree Lane, sparkles with thousands of lights beginning at the cross of Woodbury Road and ending at Altadena Drive. Christmas Tree Lane is the oldest large-scale outdoor Christmas lighting venue in the world and draws crowds from all over Southern California. It is also the only botanical location registered as a California State Landmark.
After a drive down Christmas Tree Lane, many venture a few blocks east to the Balian Mansion. The Balian family has been decorating their Mediterranean-style home with impressive light displays since 1955. Complete your winter wonderland celebration with something sweet from Patticakes Desserts on Allen Avenue just a few blocks south of the Balian Mansion. From mini muffins to three-layered cakes, there's something for every occasion at Patticakes.
For those who consider Halloween the best time of the year, a spooky adventure is said to await visitors of the historic Cobb Estate which rests on the edge of the Angeles National Forest at the northern end of Lake Avenue. Enter through the vintage iron gates onto the old grounds often referred to as the Haunted Forest. No ghostly occurrences have been confirmed though some claim to hear strange sounds or experience a sudden "uneasy feeling" as they walk amongst the remains of the property once owned by the famous Marx Brothers.
Most locals will agree, Altadena is especially charming in the spring. Snow capped mountains are often still visible while the Altadena Farmer's Market and neighboring community garden get into their stride. The Golden Poppy Awards are given to residents with exceptional gardens and nearby hiking trails begin to draw locals and visitors into the foothills for a bit of fresh air.
Eaton Canyon is an especially popular destination for hikers and nature lovers. A waterfall, equestrian trails, picnic areas and a nature center, make Eaton Canyon Natural Area a great place to experience the beautiful San Gabriel Mountains up close. Eaton Canyon also welcomes canine companions and Wigglewag regularly brings dogs here for hiking trips and training exercises. Dogs get to stretch their legs, burn off excess energy and explore the great outdoors.
Wigglewag knows how important it is for pets to receive enough exercise. Plenty of activity is critical not only for your pet's physical health but their mental mental well-being too. Regular walks and outings with Wigglewag can also help your dog develop appropriate behavior with other pets and people.
Unlike most pet care agencies, Wigglewag includes behavioral training in their everyday services. Through exercise, discipline, affection and structure, Wigglewag helps shape good dog behavior. The opportunity to spend time with a well balanced "pack" can help less socialized dogs gain confidence and learn to get along with other animals. Many clients have noticed their dogs are happier and better behaved after just a few days with Wigglewag!
Training in addition to providing your pet with the highest quality care makes Wigglewag the best choice for all of your pet sitting and dog walking needs! Doggie daycare and overnight boarding are also available at the home of Wigglewag co-owners Cynthia and Nestor Escobar. Their beautiful, two-story home has been modified to provide exceptional care for dogs of all ages and sizes. Dogs are given plenty of exercise in the large play yard and receive at least three daily walks off the property.
Wigglewag's fantastic dog walking services can be combined with pet sitting to ensure your dog is getting plenty of exercise. Walks last a minimum of 30 minutes and are also great for people with busy schedules or dogs that are more difficult to walk.
Long walks in your neighborhood or one of Wigglewag's Doggie Adventures are great for your dog's health and spirit. Doggie Adventures occur about once a month and are planned well in advance to ensure your pet has an enjoyable and safe trip. Cynthia and Nes Escobar personally take dogs to special canine friendly locations for a day of fun in the sun! From beach excursions to special hiking trips, Doggie Adventures are just one many reasons Wigglewag is so uniquely awesome!