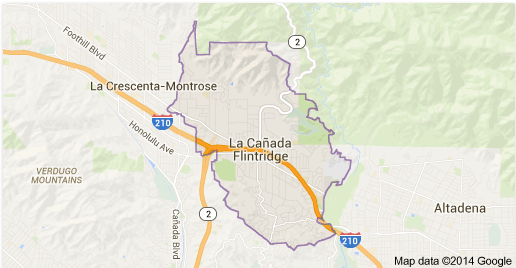 Read About Our La Cañada Flintridge Services
[button link="http://wigglewag.net/la-canada-flintridge/dog-walking/" color="orange"]Dog Walking [/button][button link="http://wigglewag.net/la-canada-flintridge/pet-sitting/" color="orange"]Pet Sitting [/button][button link="http://wigglewag.net/la-canada-flintridge/doggie-daycare/" color="orange"]Doggie Daycare [/button][button link="http://wigglewag.net/la-canada-flintridge/dog-boarding/" color="orange"]Boarding [/button]
The charming city of La Cañada Flintridge is nestled against the foothills of the San Gabriel Mountains. On a clear day, you can see as far as Catalina Island from Ocean View Boulevard. Mount Lukens Road extends into the Angeles National Forest and Foothill Boulevard offers several great shopping and dining locations. La Cañada Flintridge is also home to NASA's world-renowned Jet Propulsion Laboratory (JPL) and beautiful Descanso Gardens.
JPL's impressive, 177 acre campus employs roughly 5,000 people who work to advance space exploration through robotics. Past missions include peering beneath the surface of a comet and getting up close and personal with our neighboring planets using cutting edge spacecrafts. Managed by nearby California Institute of Technology (Caltech), the laboratory is closed to the public except for one weekend a year when doors open to allow visitors a glimpse into the world of space stations, Mars rovers and micro technology.
Descanso Gardens specializes in life here on Earth with a wide variety of botanical collections available year-round for the public to enjoy. Founded in 1953, Descanso Gardens' seasonal horticultural displays, art gallery and vintage miniature railroad draws thousands of visitors annually. Accredited by the American Association of Museums, Descanso Gardens works to preserve the natural heritage and beauty of Southern California.
The bungalow-style Lanterman House is one of the oldest homes in La Cañada Flintridge. Built in 1915, the historic home retains many original craftsman furnishings and hand-painted wall and ceiling ornamentation. The Lanterman House also holds a collection of La Cañada Flintridge historical archives available for public view by appointment.
The world's first disc golf course is located in Hahamongna Watershed Park across from La Cañada High School. Grab your frisbee, pack a picnic or embark on a hike with your canine companion at this entrance to the greater Arroyo Seco Natural Park.
The Arroyo Seco and nearby Rose Bowl Stadium are two locations Wigglewag frequently visits on their dog walking excursions. It's important for pets to receive plenty of exercise and Wigglewag is committed to providing activities that benefit your dog's physical and mental health.
Wigglewag offers excellent dog walking services to their La Cañada Flintridge clients and can customize a route that's right for your beloved pet. In addition to exercise and enrichment, dog walking services are a great opportunity for the experienced staff at Wigglewag to work on "loose-leash" walking and help your dog develop appropriate behavior around other animals and people.
Unlike most pet care agencies, Wigglewag includes behavioral training in their everyday services. Wigglewag uses training techniques that mimic a canine's natural way of learning so bad habits are often resolved very quickly! Training in addition to providing your pet with the highest quality care makes Wigglewag the best choice for all of your dog walking, pet sitting, doggie daycare and dog boarding needs!
Wigglewag will come to your home, pick up your dog and walk him in your neighborhood, or even take him on one of their Doggie Adventure excursions. Walks last 30 minutes and can help reduce pulling and erratic leash walking. The opportunity to spend time with a well balanced "pack" can also help less socialized dogs gain confidence and learn to enjoy the company of other pets.
Doggie daycare and overnight, cage-free boarding are also available at the home of Wigglewag co-owners Cynthia and Nestor Escobar. With more than 25 years combined experience, Cynthia and Nes provide La Cañada Flintridge residents with the best doggie daycare and boarding services in Southern California. At Wigglewag, your dog will enjoy all the comforts of home and more while surrounded by love and family.
Wigglewag is conveniently located just a short drive from La Cañada Flintridge in a quiet Pasadena neighborhood. The Escobar's beautiful, two-story home has been modified to provide exceptional care for dogs of all ages and sizes. Dogs are given plenty of exercise in the large play yard and receive at least three daily walks off the property. Wigglewag's doggie daycare and boarding options are especially good for high energy breeds, dogs that need extra training or dogs that become destructive when left alone.
Whether you plan to be out of town, have a busy schedule or just need an extra hand with your pets, Wigglewag has a service that's right for you.