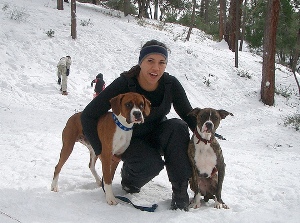 Cynthia Escobar has worked in the veterinary field for the past 10 years. As a Vet. Tech. she has first hand experience with changing bandages, giving insulin injections and administering medications of all types. Cynthia can also give dogs sub-q fluids and medicines in the comfort of your home. It is no wonder that Wigglewag has the endorsement of Veterinarians in the area:
[quote]After working closely with Cynthia at a busy local 24-hour small animal veterinary practice, I know that she is a caring and observant individual with a genuine affection for animals. She has repeatedly demonstrated her ability to care for pets and can readily recognize when there is a need for medical attention. A pet left in Cynthia's care would benefit from her several years of experience working in the veterinary profession.[/quote]
-Valerie Tesauro, DVM
Wigglewag can combine services. While boarding Wigglewag can administer medicine to your dog and then take them out for some exercise while continuing to monitor their health. You can rest easy knowing that your dog is in the hands of a former professional of the veterinarian field. Medical services Wigglewag can offer include, but are not limited to:
Changing bandages
Administering pills
Administering liquid medications
Administering eye drops or eardrops
Administering Sub-Q Fluids
Cleaning and dressing of wounds
Additional fees may apply. If you would like more information on how we can help your infirmed pet, contact us today at 626-376-0608 for a consultation of your situation.