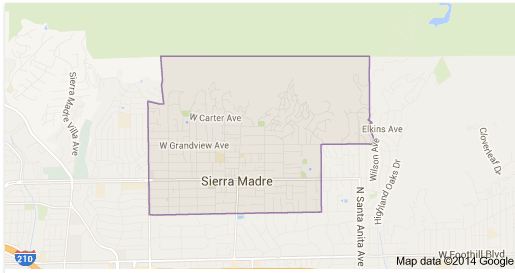 Read About Our Sierra Madre Services
[button link="http://wigglewag.net/sierra-madre/dog-walking/" color="orange"]Dog Walking [/button][button link="http://wigglewag.net/sierra-madre/pet-sitting/" color="orange"]Pet Sitting [/button][button link="http://wigglewag.net/sierra-madre/doggie-daycare/" color="orange"]Doggie Daycare [/button][button link="http://wigglewag.net/sierra-madre/dog-boarding/" color="orange"]Boarding [/button]
The City of Sierra Madre rests quietly at the base of the Angeles National Forest overlooking the greater San Gabriel Valley. Well known for its small-town appeal and its annual Wistaria Festival, Sierra Madre is a city full of beauty and charm. This picturesque town celebrated its 100th birthday in 2007 and was honored with the All-America City award that same year. Frequent community events and independently owned businesses make Sierra Madre a great place to visit and an even better place to call home.
Every spring, locals and visitors flock to the Wistaria Festival which includes access to the world's longest wisteria vine. The vine was planted in 1894 from a one gallon pot purchased from a local nursery. Certified by the Guinness Book of World Records as the largest blossoming plant, the vine continues to stretch its way across two residential properties. Wistaria Festival attendees can also enjoy live musical performances, great food, local arts and crafts vendors and more.
You don't have to wait for the Wistaria Festival to enjoy all Sierra Madre has to offer. At Arnold's Frontier Hardware and Gifts you can find most anything you need all year long. From BBQs to home decor to mason jars and tools, Arnold's Frontier Hardware is a far cry from the impersonal warehouse size home improvement stores typically found in Los Angeles county. Arnold's old fashioned approach makes for a more friendly shopping experience that has kept them in business for more than 75 years.
The Sierra Madre Playhouse and several delightful restaurants can also be found in this city often referred to as the "Village of the Foothills". Start your morning off right with a cup of Sierra Madre Roasting Company coffee available at Bean Town coffee house. Your canine companions are welcome to join you for lunch at Monsieur Crêpe and don't forget to try the fish and chips at Lucky Baldwin's Delirium Cafe. To satisfy your sweet tooth, enjoy hand-crafted pastries, cake and pies at Poppy Cake Bakery.
Perhaps one of Sierra Madre's most beloved small businesses is E. Waldo Ward & Son Gourmet Food Products. The E. Waldo Ward Ranch has been producing marmalade in Sierra Madre for more than a century. Still family owned and operated, residents and visitors can stop by the ranch and stock up on condiments, jams, marinades, pickled fruit and of course, marmalade, every day except Sundays. Tours of this hidden suburban treasure are offered by appointment.
Nature lovers will appreciate the Mount Wilson Trail for its amazing views that, on a clear day, include distant Catalina Island. Those who complete the strenuous journey to the top of the trail are greeted by the Mount Wilson Observatory and a collection of towering television and radio antennas which broadcast across the greater Los Angeles area.
Wigglewag also takes advantage of Sierra Madre's trails and natural beauty through their exceptional dog walking services. Walks often include visits to hiking destinations, local parks, the Rose Bowl and other pet-friendly locations in and around Sierra Madre. Walks with Wigglewag not only provide exercise and enrichment but also an opportunity for the experienced staff to work on behavioral training and help your dog develop appropriate behavior around other animals and people.
Wigglewag uses training techniques that mimic a canine's natural way of learning so bad habits are often resolved quickly. If your dog pulls, lunges or reacts negatively to neighborhood activity while on a walk, the staff at Wigglewag can help! Walks with Wigglewag last 30 minutes and can be customized for senior dogs or those with special needs. In addition to dog walking, Wigglewag provides the best doggie daycare and overnight boarding available to Sierra Madre residents.
Clients frequently combine a schedule of daycare with Wigglewag's fantastic dog walking services or one of their Doggie Adventure excursions. Outings with Wigglewag are a great way to give your dog some extra attention and exercise while you are away. Your dog will also have the opportunity to spend time with a well balanced "pack" which can help less socialized dogs gain confidence and learn to positively interact with other pets.
Doggie daycare and overnight, cage-free boarding are also available at the home of Cynthia and Nes Escobar. The Escobar's have more than 25 years combined pet care experience and are committed to providing your canine companion with the best doggie daycare and boarding experience possible. While you are away, your dog will enjoy all the comforts of a real home, surrounded by love and family.
Wigglewag is conveniently located just a short drive from Sierra Madre near Pasadena's quiet Bungalow Heaven neighborhood. The Escobar's beautiful property has been modified to provide exceptional care and plenty of activities for dogs of all ages and sizes. Dogs are given ample time in the large play yard and receive at least three neighborhood walks each day!
Whether you're taking a vacation, have a busy schedule or just need an extra hand with your pets, Wigglewag has a service that's right for you.