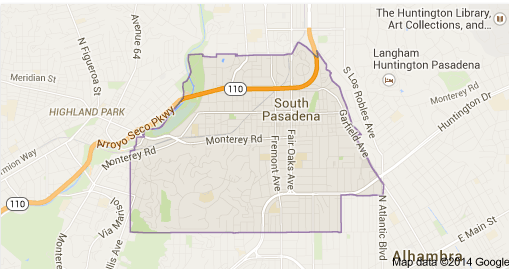 Read About Our South Pasadena Services
[button link="http://wigglewag.net/south-pasadena/dog-walking/" color="orange"]Dog Walking [/button][button link="http://wigglewag.net/south-pasadena/pet-sitting/" color="orange"]Pet Sitting [/button][button link="http://wigglewag.net/south-pasadena/doggie-daycare/" color="orange"]Doggie Daycare [/button][button link="http://wigglewag.net/south-pasadena/dog-boarding/" color="orange"]Boarding [/button]
With just over three square miles of territory, the City of South Pasadena is a lovely, small town treasure on the edge of L.A.'s bustling metropolis. Originally part of neighboring Pasadena, South Pasadena incorporated in 1888 with roughly 500 pioneering people. Often used in television and movie productions to represent an all-American town, South Pasadena has steered clear of the palm trees, billboards and lavishness typically found in Southern California cities.
Mission Street is South Pasadena's most active thoroughfare with independently owned shops and restaurants that give the area a classic "Main Street" feel. A large portion of Mission Street is part of the original U.S. Route 66 highway. The historic Fair Oaks Pharmacy and Soda Fountain, found on the eastern side of Mission Street, has been serving travelers and locals since 1915. From ice cream to vaccines, jewelry and stationery, you'll find it all at this colorful South Pasadena landmark.
Every Thursday, the western side of Mission Street hosts an evening farmer's market packed with locals and many of their San Gabriel Valley neighbors. A wide array of prepared food vendors and farmers provide ample choices for dinner and plenty of fresh baked goods, eggs and produce to get you through the rest of the week. Local musicians complete the festival-like atmosphere and the doors to the South Pasadena Historical Museum stay open late for added entertainment.
Those who venture away from Mission Street will discover more of South Pasadena's charm among the cheerful, residential, tree-lined streets. Hidden gems in the form of coffee houses, eclectic gift shops and enticing restaurants are waiting to welcome you. Local favorites include Charlie's Coffee House for its cozy, relax and stay-awhile feel and Fiore Market Cafe for their famous homemade bread.
South Pasadena's beautiful neighborhoods are also complemented by several well-maintained community parks. In addition to the sweeping Arroyo Seco which borders South Pasadena to the west, many locals enjoy the backyard feel of Eddie Park and House, a property donated to the city by the Eddie family in 1934. Parts of the Eddie's romantic Craftsman house and .75 acre lawn are available for meetings, barbeques and other gatherings.
Wigglewag also takes advantage of South Pasadena's parks through their exceptional dog walking services. Walks not only include visits to parks but also nearby hiking destinations, the Rose Bowl and pet-friendly business districts. Walks with Wigglewag not only provide exercise and enrichment but also an opportunity for the experienced staff to work on behavioral training and help your dog develop appropriate behavior around other animals and people.
Wigglewag uses training techniques that mimic a canine's natural way of learning so bad habits are often resolved quickly. If your dog pulls, lunges or reacts negatively to neighborhood activity while on a walk, the Wigglewag staff can help! Walks with Wigglewag last a minimum of 30 minutes and can be customized for senior dogs or those with special needs. In addition to dog walking, Wigglewag provides the best pet sitting, doggie daycare and overnight boarding available to South Pasadena residents.
Clients frequently combine a schedule of daycare with Wigglewag's fantastic dog walking services or one of their Doggie Adventure excursions. Outings with Wigglewag are a great way to give your dog some extra attention and exercise while you are away. Your dog will also have the opportunity to spend time with a well balanced "pack" which can help less socialized dogs gain confidence and learn to positively interact with other pets.
Doggie daycare and overnight, cage-free boarding are also available at the home of Cynthia and Nes Escobar. The Escobar's have more than 25 years combined pet care experience and are committed to providing your canine companion with the best doggie daycare and boarding experience possible. While you are away, your dog will enjoy all the comforts of a real home, surrounded by love and family.
Wigglewag is conveniently located just a short drive from South Pasadena near Pasadena's quiet Bungalow Heaven neighborhood. The Escobar's beautiful property has been modified to provide exceptional care and plenty of activities for dogs of all ages and sizes. Dogs are given ample time in the large play yard and receive at least three neighborhood walks each day!
Whether you're taking a vacation, have a busy schedule or just need an extra hand with your pets, Wigglewag has a service that's right for you.