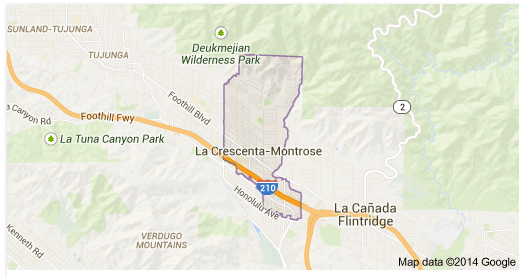 La Crescenta-Montrose rests at the base of the Angeles National Forest about 15 miles north of Downtown Los Angeles. A community of roughly 20,000 people call this area home and need only step outside for up close and personal views of the majestic San Gabriel Mountains. Although parts of La Crescenta-Montrose fall within the borders of the City of Glendale, this charming area has a unique character all its own.
La Crescenta-Montrose has many time honored traditions and plays host to a variety of lively neighborhood events. The weekly Montrose Harvest Festival, the summer film festival and the annual Taste of the Foothills are just a few reasons locals and visitors love to spend time in La Crescenta-Montrose. There's always something fun happening in this welcoming Crescenta Valley community.
One of the most popular farmer's markets in the greater Los Angeles area, the Montrose Harvest Market brings a wide variety of vendors to Honolulu Avenue each Sunday. From fresh fruit and organic vegetables to artisan goods, flowers and even pony rides, this market has something for everyone. Many who visit the Harvest Market stay to enjoy the independently owned shops and restaurants that line the street and give this area of Montrose its nostalgic, small-town feel.
Another way to experience La Crescenta-Montrose cuisine is the annual Taste of the Foothills, a food festival that raises money for local schools. Since 2008, the Crescenta Valley Chamber of Commerce has hosted the event which showcases some of the area's best restaurants. Guests are invited to savor the mouth-watering samplings, mingle with friends and enjoy the live musical performances. Taste of the Foothills takes place in mid-November at the Marketplace Shopping Center on Foothill Boulevard.
Movie buffs will appreciate the Montrose Film Festival with free, family-friendly movies under the stars. This annual, summertime treat, has screened several popular 80's films, "Breakfast at Tiffany's", "American Graffiti" and 1947's, "My Wild Irish Rose", starring Dennis Morgan. Dennis Morgan is also credited with establishing La Crescenta's lovely Two Strike Park on Rosemont Avenue.
Nature lovers will want to take the short drive up Dunsmore Canyon Road to beautiful Deukmejian Wilderness Park. Hiking trails, picnic areas, mountain streams and picturesque views make this a perfect place to enjoy the great outdoors. The park is also home to the restored Le Mesnager Barn originally built by winemaker, George Le Mesnager, and his son in the early 1900s. Le Mesnager used the barn to store his stock of grapes. The barn adds a nice touch of unexpected history to the park.
Dogs are also welcome at Deukmejian Wilderness Park and several other parks and natural spaces in La Crescenta-Montrose. Wigglewag frequently uses these outdoor areas as part of their exceptional dog walking services. Walks with Wigglewag last a minimum of 30 minutes and provide exercise, enrichment and training to help your dog develop good leash walking skills and appropriate behavior around other animals and people.
With more than 25 years combined experience, Wigglewag co-founders Cynthia and Nestor Escobar provide beneficial, affordable, doggie daycare, and overnight dog boarding in addition to their dog walking services. Their unique approach focuses not only on the monitoring of your pets, but also on exercise, socialization and behavioral training.
Cynthia and Nes Escobar love their clients' pets so much, they provide overnight boarding accommodations and doggie daycare in their own home. Dogs of all sizes and ages are welcome in their beautiful, two-story house, conveniently located in a quiet Pasadena neighborhood. Canine guests are given plenty of exercise in the large yard and receive at least three walks off property each day.
During their stay, dogs also work on their socialization skills with other canines in a secure, controlled environment. The opportunity to spend time with a well balanced "pack" has helped many less socialized dogs gain confidence and learn to get along with other pets. The Escobars are committed to providing your canine companion with the best doggie daycare and boarding experience possible. While you are away, your dog will enjoy all the comforts of a real home, surrounded by love and family.
Whether you're taking a vacation, have a busy schedule or just need an extra hand with your pets, Wigglewag has a service that's right for you.