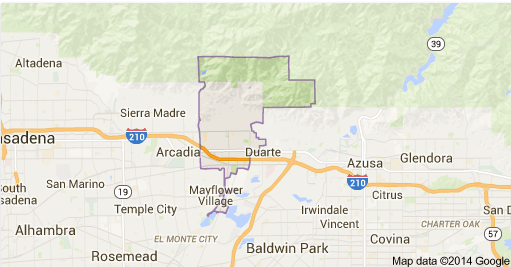 Read About Our Monrovia Services
[button link="http://wigglewag.net/monrovia/dog-walking/" color="orange"]Dog Walking [/button][button link="http://wigglewag.net/monrovia/pet-sitting/" color="orange"]Pet Sitting [/button][button link="http://wigglewag.net/monrovia/doggie-daycare/" color="orange"]Doggie Daycare [/button][button link="http://wigglewag.net/monrovia/dog-boarding/" color="orange"]Boarding [/button]
The beautiful City of Monrovia rests at the base of the San Gabriel Mountains roughly 20 miles northeast of Los Angeles. This small, quaint city is the perfect place to spend a leisurely afternoon. At the heart of Monrovia is it's thriving Old Town shopping district where you can find the perfect gift, rare antiques, and plenty of great places to grab a bite to eat. The once dilapidated Old Town has been fully revitalized and is now Monrovia's number one place to see and be seen.
Old Town hosts several yearly festivals that draw crowds from all over the San Gabriel Valley. A recurring Friday night street fair and movie theater make this historic district an ideal location for a safe night out. Myrtle Avenue is Old Town's main thoroughfare and home to an abundance of charming, independently owned businesses which help guests adhere to the district's motto of "Relax-Stroll-Shop". Old Town is also home to Monrovia's Town Square with veterans memorials, public library and children's playground.
Festivals and community gatherings are not uncommon in Monrovia and further add to the city's small-town ambiance and appeal. Every Friday evening from March to December, Myrtle Avenue hosts the Family Festival with a certified farmer's market, live entertainment and a variety of vendors that cater to adults and children. Residents and visitors can also look forward to the annual Spring Egg Hunt, 4th of July Concert & Fireworks Show, Halloween Event and the Holiday Parade & Tree Lighting.
The Annual Summer Art Walk also takes place on Myrtle Avenue and provides art for sale, art demonstrations and live music. The festival is hosted by the Monrovia Association of Fine Arts which recently celebrated its 50th anniversary! Art has become so popular in Monrovia that in 2004, the City Council adopted an ordinance that requires development projects in excess of one million dollars to allocate additional funds for art in public places.
Monrovia not only has a love for the arts, but for nature as well. In 2000, Monrovia residents voted in favor of a tax increase to purchase more than 1,400 acres of land resulting in the Monrovia Hillside Wilderness Preserve. The preserve, in addition to many other natural spaces and parks, help maintain the city's beautiful, inherent landscape.
Wigglewag also takes advantage of Monrovia's natural spaces through their exceptional dog walking services. Walks with Wigglewag offer more than just a quick stroll around the block. Each walks last 30 minutes and often includes visits to local parks and other pet-friendly locations and hiking destinations. Walks with Wigglewag not only provide exercise and enrichment but also an opportunity for the experienced staff to work on "loose-leash" walking and help your dog develop appropriate behavior around other animals and people.
Unlike most pet care agencies, Wigglewag includes behavioral training in their everyday services. Wigglewag uses techniques that mimic a canine's natural way of learning so bad habits are often resolved very quickly! In addition to dog walking, Wigglewag provides the best doggie daycare and overnight boarding available to Monrovia residents.
Doggie daycare and overnight, cage-free boarding are available at the home of Wigglewag co-owners, Cynthia and Nestor Escobar. While you are away, your dog will enjoy all the comforts of a real home, surrounded by love and family. The Escobar's have more than 25 years combined pet care experience and are committed to providing your canine companion with the best doggie daycare and boarding experience possible.
Wigglewag is conveniently located just a short drive from Monrovia in a quiet Pasadena neighborhood. The Escobar's beautiful, two-story home has been modified to provide exceptional care for dogs of all ages and sizes. Dogs are given plenty of exercise in the large play yard and receive at least three walks off the property each day. Wigglewag's doggie daycare and boarding options are especially good for high energy breeds, dogs that need extra training or dogs that become destructive when left alone.
Whether you're taking a vacation, have a busy schedule or just need an extra hand with your pets, Wigglewag has a service that's right for you.