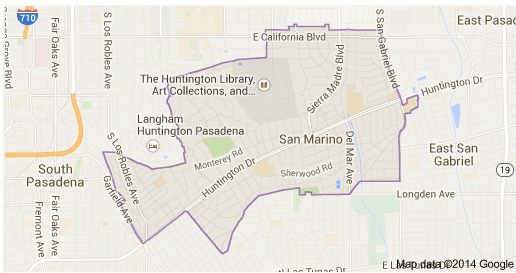 Read About Our San Marino Services
[button link="http://wigglewag.net/san-marino/dog-walking/" color="orange"]Dog Walking [/button][button link="http://wigglewag.net/san-marino/pet-sitting/" color="orange"]Pet Sitting [/button][button link="http://wigglewag.net/san-marino/doggie-daycare/" color="orange"]Doggie Daycare [/button][button link="http://wigglewag.net/san-marino/dog-boarding/" color="orange"]Boarding [/button]
Tucked in the lush landscape just below Pasadena, the City of San Marino impresses visitors with an abundance of incredibly elegant homes and dreamy, tree-lined streets. Although primarily residential, those who take the necessary time to explore San Marino will find several notable destinations including the world-renowned Huntington Library and Botanical Gardens, the historic Old Mill, and community favorite, Lacy Park.
The city celebrated its centennial in 2013 and has achieved much in its first 100 years. From the city's inaugural mayor, General George S. Patton, Sr., to the contributions of accomplished businessman, Henry E. Huntington, to famous resident and scientist, Edwin Hubble, San Marino continues to build on its rich history.
The Huntington Library, Art Collections and Botanical Gardens maintains Henry Huntington's expansive estate on Oxford Road. Before his passing, Henry Huntington allowed limited access to his personal library of art, rare books and valuable historical documents. Now, his remarkable mansion and surrounding botanical gardens welcome thousands of visitors each year.
In addition to the incredible art and historical collection, The Huntington is home to a diverse of wildlife. Hawks, owls, quail, raccoons, squirrels and other creatures have been spotted throughout the property. Koi and lily ponds offer guests an especially tranquil place to take pause. Make a reservation at the Rose Garden Tea House for an elegant buffet worthy of Mr. Huntington himself.
Another prominent San Marino resident was Edwin Hubble, famous for his work in astronomy. Hubbles provided important evidence that space extended beyond the Milky Way. He made his discovery from atop Mount Wilson, viewable from San Marino and the surrounding San Gabriel Valley. The Hubble Telescope is named after Mr. Hubble who lived at "Hubble House" from 1925 until his passing in 1953. The lovely, two-story, Spanish-style home is now a National Historic Landmark.
Another historic landmark is San Marino's Old Mill which dates back to the early 1800s. Originally a grist mill for Mission San Gabriel, it is the oldest commercial building in Southern California. A collection of antiques line the current entrance room welcoming visitors to the enduring structure made of brick, volcanic tuff, sun-dried adobe, pine, sycamore and lime derived from burnt sea shells. Upstairs, guests can purchase artwork supplied by the California Art Club.
Nearby Lacy Park also hosts a variety of events and welcomes residents and visitors to enjoy its 30 acres of greenery, walking paths, rose garden and memorials. Dedicated by the City of San Marino in 1925, Lacy Park, recently built a memorial to honor General George S. Patton, the United States Armed Forces and all military personnel from San Marino. Built and maintained by private donations, the park's Rose Arbor has been providing residents with a peaceful escape for more than 60 years. Dogs are welcome to join their owners for some fun and exercise in this beautiful park.
Wigglewag also takes advantage of Lacy Park through their exceptional dog walking services. Walks with Wigglewag last 30 minutes and often includes visits to local dog parks pet-friendly business districts and nearby hiking destinations. Walks with Wigglewag not only provide exercise and enrichment but also an opportunity for the experienced staff to work on "loose-leash" walking and help your dog develop appropriate behavior around other animals and people.
Unlike most pet care agencies, Wigglewag includes behavioral training in their everyday services. Using techniques that mimic a canine's natural way of learning, bad habits are often resolved very quickly! In addition to dog walking, Wigglewag provides the best pet sitting, doggie daycare and overnight boarding available to San Marino residents.
Clients frequently combine a schedule of daycare with Wigglewag's fantastic dog walking services or one of their Doggie Adventure excursions. Outings with Wigglewag are a great way to give your dog some extra attention and exercise. Your dog will also have the opportunity to walk with a well balanced "pack" which can help less socialized dogs gain confidence and learn to enjoy the company of other pets.
Doggie daycare and overnight, cage-free boarding are also available at the home of Wigglewag co-owners, Cynthia and Nestor Escobar. While you are away, your dog will enjoy all the comforts of a real home, surrounded by love and family. The Escobar's have more than 25 years combined pet care experience and are committed to providing your canine companion with the best doggie daycare and boarding experience possible.
Wigglewag is conveniently located just a short drive from San Marino in a quiet Pasadena neighborhood. The Escobar's beautiful, two-story home has been modified to provide exceptional care for dogs of all ages and sizes. Dogs are given plenty of exercise in the large yard and receive at least three walks off the property each day!
Whether you're taking a vacation, have a busy schedule or just need an extra hand with your pets, Wigglewag has a service that's right for you.